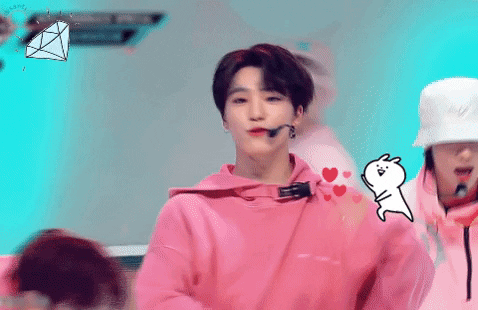 Official Video Uploads and Shows
---
[
Official Uploads and Shows
]
x

Seventeen Fear MV

x

[Eng] Fear Fanchant

x

[Eng] 190916 Time to get poisoned soon 🖤

x

[Eng] 190916 'An Ode' Showcase

x

190916 [Dispatch] 'An Ode' Jacket Shooting BTS

x

[Eng] 190917 Concept Zone Opening 💎💕

x

Seventeen Fear Move Rec. (Dingo)

x

[Eng] Fear MV Behind The Scenes

x

[Eng] Dispatch - Sev-Ramyeon Challenge (❤)

x

[Eng] Dingo - Out Of Nowhere Interview with Seventeen (❤)

x

[Eng] Idol Room Ep. 68 (Part 1) (❤)
(Part 2 coming this week)

x

[Eng] Inside Seventeen - World Tour 'An Ode to You' World Tour SEOUL Behind

x

[Eng] Going Seventeen 2019 Ep. 15 MBTI of SVT #2 (Mannequin prank ❤)

x

[Choreography Video] Seventeen - Fear


Other videos that got subbed this week are Korean Lesson 22 + 23, Haibao The8 Interview, KCON 2019 LA x MCountdown Backstage, Jun's Dream of Dreams MV Behind and Minghao giving a lecture about B-boying. Like17Subs also finished subbing Knowing Bros

(it was a hard delivery)

, so if you want to rewatch the show with better/more complete/prettier subs, here you go.

Music Show Performances
---
[
Music Show Performances
]
Mnet MCountdown
Music Bank



x



Fear

x

[5K] Seventeen Full Cam Fear (Choreo)




Music Core






Inkigayo




Pledis also shot solo cams for Fear during the showcase!
Fansigns
---
[
Fansigns
]
DK's and Hoshi's TMI
🐴 DK'S TMI (190921 FANSIGN)
For Chuseok, DK went back home. His mom usually prepares a feast for him. But he didn't want him to gain weight before the comeback so he asked his mom to prepare mainly veggies and she did. But he still ended up eating only short ribs.@pledis_17

— 모찌햄찌 🍑🐹 (@17_HAMZZI) 21. September 2019
🐯 HOSHI'S TMI (190921 FANSIGN)
For Chuseok, Hoshi went back home but his mom kept feeding him 3-4 times a day even though it was right before their comeback. He knew this would be dangerous, so he came back to the dorms and watched 2 movies (Tazza and The Bad Guys). @pledis_17

— 모찌햄찌 🍑🐹 (@17_HAMZZI) 21. September 2019
Hoshi tearing up seeing a fan tear up
#호시 at a fansign, a fan thanked hoshi and he thanked her back for being a carat. she got overwhelmed and began to tear up, hoshi told her not to cry but after seeing her tear up, he ended up getting teary eyed as well pic.twitter.com/iFx20b8uHm

— sweet hoshi (@sweetlikehoshi) September 24, 2019
Hoshi and Woozi chose FEAR as the most difficult song
🐯🍚 Hoshi and Woozi both chose <FEAR> as the most difficult song to choreograph and compose. Hoshi said that the choreography for <247> was made last minute but still not as hard as <FEAR>.
Cr. kingwangjjang17@pledis_17 pic.twitter.com/jieoAcTlKK

— 모찌햄찌 🍑🐹 (@17_HAMZZI) 21. September 2019
Charts and Numbers
---
[
Charts and Numbers
]
Digital Charts
Fear didn't shine on the domestic digital charts.
The track
debuted
at #26 on melon and rose up to
#8
. Its daily rank on the first day was
#80
. But, the low position it had - it held well throughout the whole week. Fear even finished the week with its till then best daily position
#79
(probably thanks to fans being in a celebration-mood after cracking 700k album sales)
. Fear's first week digital rank on Melon is
#82
. Here are some comparison numbers how other title songs did on Melon
(cr. to @bichuisigan)
Fear: 82
(HIT: 84)
Home: 32
Oh my: 23
Thanks: 34
Clap: 38
Dwc: 38
Boom boom: 68
Aju nice: 68
Pretty u: 45
I never know how much weight those itunes charts have, but 'An Ode' was #1 in 16 countries on
itunes
. The album also debuted at #1 on
iTunes Worldwide Album Chart
- their highest debut on their to date.
Physical Sales
Album sales on the hand were amazingly high.
On the first day, album sales
tripled
compared to their last album
(mainly thanks to C-Carats preorders)
. By day 3, they already
bested
their YMMDawn 1st week sales.
(in part thanks to J-Carats, since HMV now counts to Hanteo)
. By day 4 they bested their YMMD-sales in general. They doubled their first-week-sales since their last album and now hold #3 on the all-time highest first-week album sales on GAON.
LOOK AT THIS ABSOLUTE EMPTINESS BOYS SOLD OUT IN SAPPORO!! SAPPORO WHERE NOTHING HAPPENS!! @pledis_17 pic.twitter.com/U2eg1itQc7

— サ ♡ OTY in JP goods 📌 (@carrot_sarada) September 20, 2019
.
.
.
Let's relive that Sunday again... It is 30 minutes before Sunday ends. Carats are camping on the Hanteo site and biting their finger nails because 'An Ode' is 200 copies away from reaching 700K.
We're 200 albums left before 700k omg ㅋㅋㅋㅋㅋㅋㅋㅋㅋㅋㅋㅋ 30 mins until today ends plz https://t.co/wVboRkVU2Q

— 체리 🍒 (@kidmingyu) 22. September 2019
This is the most chaotic day in my entire career as a carat @pledis_17

— #SEVENTEEN_FEAR (@seokminsadlibs) September 22, 2019
*699,785 😂😂 Myhands was shaking lmao

— 🎀 𝐇𝐨𝐬𝐡𝐢 (` з ´) 𝐣𝐢𝐧𝐣𝐣𝐚 𝐩𝐞𝐝𝐚𝐬 🎀 (@eaph92) September 22, 2019
.
.
.
As the minutes go by, fans are
(๑⊙_⊙๑) (๑⊙_⊙๑) (๑⊙_⊙๑)
Before, they were trying to organize some last-last-minute sales. KCarats tweeting asking who wants an album. KCarats and JCarats checking which stores still have stock and are open at this time. Carats in pajamas dragging their trolleys behind them, making their way to the store.
met other carats and we were just standing in front of the store staring at each other's bags (luggage in my case 🙄) wearing silly smiles. i'm freakin spent. both energy and money wise. anyway~ fun last minute stunt we pull tonight... all carats who have worked hard, g'night <3 https://t.co/YlA2BLZ8Sw

— 🍃gaby (@baramgaby) September 22, 2019
.
.
.
The numbers slowly rose...
(๑⊙_⊙๑) pic.twitter.com/pIC6HBAfM7

— 세븐틴 음원총공팀 (@SVT_STREAM) September 22, 2019
AND THEN!
700,863!!!!!!!!!!! 눈물나 ㅠㅠㅠㅠ pic.twitter.com/JR0Kcpv22a

— mewithyou:MEYOU (@mewithyoumeyou) September 22, 2019
Carats did it!!!!!
for three years that i've been a carat, i have to admit that this has been the MOST INTENSE COMEBACK EVER! IMAGINE CRAMMING A 2.3K PIECES OF ALBUM FOR THE LAST HOUR OF SALE TO HIT 700K AND SO IS AIMING FOR A 15M VIEWS ALL IN ONE DAY!? BTCH THE ADRENALINE!? GHAD I LOVE THIS FANDOM

— 𝒗𝒆𝒓𝒂 ♥︎ 𝒉𝒂𝒏𝒊 | ga 📌 (@dreamyhani) September 22, 2019
[
Boys´ Fancafe Posts (beware of Woozi´s emotional essay)
]
S.Coups at 00:00 am

I was continuously watching..
Thank you very much. I sincerely thank you.
It's very emotional. I will work harder.
🍑@pledis_17 pic.twitter.com/9SUIHFbfe7

— 모찌햄찌 🍑🐹 (@17_HAMZZI) 22. September 2019



Jeonghan at 00:03 am

Carats~♡
I'm always thankful.
I hope that we can continue to be a source of strength for each other ㅎㅎㅎㅎ
Thank you very, very much~♡
😇@pledis_17 pic.twitter.com/Pgq0oJM2FS

— 모찌햄찌 🍑🐹 (@17_HAMZZI) 22. September 2019



Dokyeom at 00:08 am

Carats💕
Our Carats, you all did well today~
Thanks to Carats, we're spending each day full of energy and happiness😊
We'll return all the love that we have received from everyone.
Don't be sick and let's be happy😆 I love you.
🐴@pledis_17 pic.twitter.com/P45vjFH0b3

— 모찌햄찌 🍑🐹 (@17_HAMZZI) 22. September 2019



Wonwoo at 00:16 am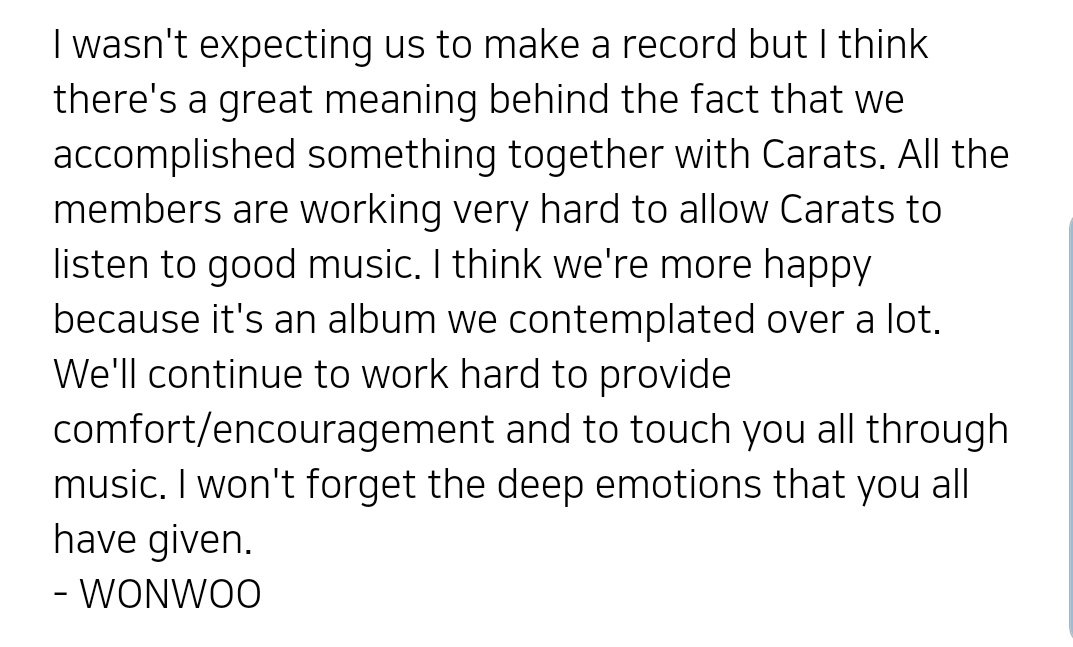 Joshua at 00:30 am

Carats
I'm so touched...thank you!!
The reason for our existence is seriously Carats.
Thank you so much.
🦌@pledis_17 pic.twitter.com/kZVR6bHtbr

— 모찌햄찌 🍑🐹 (@17_HAMZZI) 22. September 2019



Hoshi at 00:51 am
(Apparently the guys were out eating at midnight and when Hoshi saw that they reached 700K, he immediately started crying at the restaurant)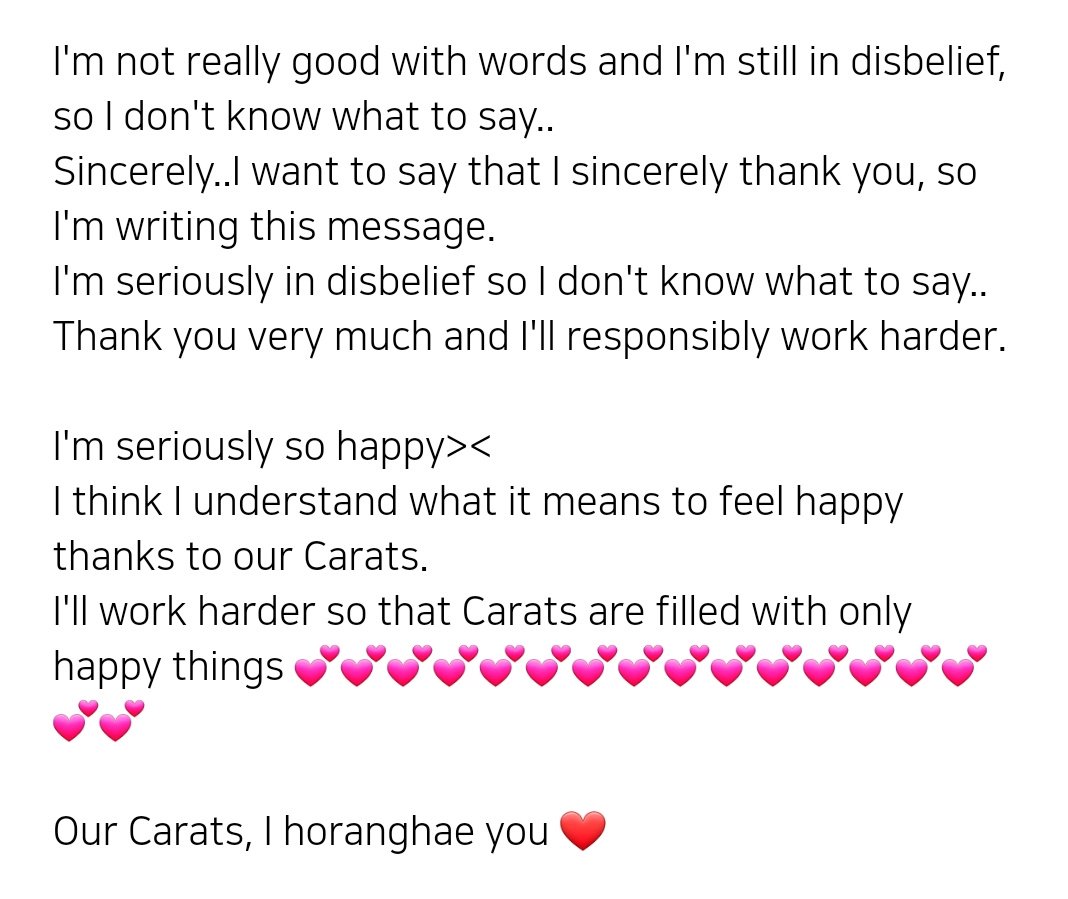 Dino at 01:04 am

Our Carats
You all worked so hard ㅠㅠㅠ
I'm so happy and thankful that we're able to experience the moment with Carats when a dream becomes reality.
Sleep well and sweet dreams ❤️
🦕@pledis_17 pic.twitter.com/pp0P9Zzj6A

— 모찌햄찌 🍑🐹 (@17_HAMZZI) 22. September 2019



Minghao at 01:18 and 02:15 am

190923 Minghao Weibo update

Thank you to each friend who supports us
To have (gone through everything and) walked together with you all, one step and one footprint at a time, it's really not easy*
Let's work hard together in the future too
Grateful 🙏🏻#the8 pic.twitter.com/m5vA1vilsY

— Everess 🗻 (@wakanda4everess) September 22, 2019
Thank you!
Thank you..
I think I'm gaining more strength thanks to you all~
I will continue to be everyone's cool singer.
🐸@pledis_17 pic.twitter.com/5kSDtjmLSW

— 모찌햄찌 🍑🐹 (@17_HAMZZI) 22. September 2019



Woozi at 02:22 am (look at how long his letter his)




Jun at 11:25 am the next day

💎
Carats, thank you ㅠㅠ I was touched.
We'll continue to work harder❤️💎
Have a nice day!!!
🐱@pledis_17 pic.twitter.com/4sNPHICuib

— 모찌햄찌 🍑🐹 (@17_HAMZZI) 23. September 2019
Interesting Tidbits
---
[
Interesting Tidbits
]
Jun's best friends are Carats
190921 — #JUN #세븐틴 ♡

Q: Which nickname would you give me?
🐱: My best friend for life

He said he thinks of Carats less as fans and more as his best friends for life because he feels like he can confide in them. He feels close to them and he has a lot of love for Carats. pic.twitter.com/OL5MAy6myq

— jun's bffl delena¹²⁷ ♡ (@simplyjunhui) September 23, 2019
About that Sekka Sekka Challenge...
About the sekka sekka challenge.
🎧: *reading post-it*
💎: this time its your turn
🎧: my turn?
💎: yup
🎧: who picked me?
💎: DK
🎧: i havent heard anythin bout it
💎: so thats why you didnt upload it?
🎧: i just found out nowpic.twitter.com/g2wlA8RF6H

— 원。・:* 💜 (@1woo17) September 22, 2019
Hoshi wrote which lyrics in 247?
190922 Fansign
Q: The lyric that #Hoshi wrote in 247 is?
A: 247 I looked for you so I wandered and wandered until I arrived at this place (the chorus)

cr: dalbithoshi_

MY!!! FAV PART!!!!!!!!ㅠㅠㅠㅠㅠㅠ pic.twitter.com/WgJfLZhGl1

— kida🍓 (@soonberries) September 22, 2019
Whose idea were the Back It Up outfits?
back it up's outfit during showcase was an idea by everyone in hhu but mingyu and cheol contributed to the idea the most 😭🥺 pic.twitter.com/KWTYcW3UQM

— drey ♡ mingyu (@gyusnoona) 22. September 2019
Album Thanks To
[
Thanks To (check out the difference between Scoups and Mingyus letter haha)
]



Seventeen's Thanks To

(credit)

The boys who used to shout "Akkinda" grew up, and the time that I spent with you was one after another. It's already been 5 years. Every single step I take with you guys is very precious. Seventeen members with staff work really hard to show Carats our passion through this 3rd full album. While preparing for this album, It became an opportunity to make a commitment with the members and to love each other more.

Both Seventeen and Carats have been waiting for too long, we hope this album will give you strength n hope our true feelings will reach the hearts of Carats. Finally, like this sentence "SVT Carat is that can't intimate", it becomes "we" that no one can imitate.

Thank you.

I love you.



Seungcheol's Thanks To (credit)


It's over 4 years now.
In the past and now too, I can endure all the hard times thanks to carats.
I really thank you and love you sincerely with all my heart.
and I'll love you even more.



Jeonghan's Thanks To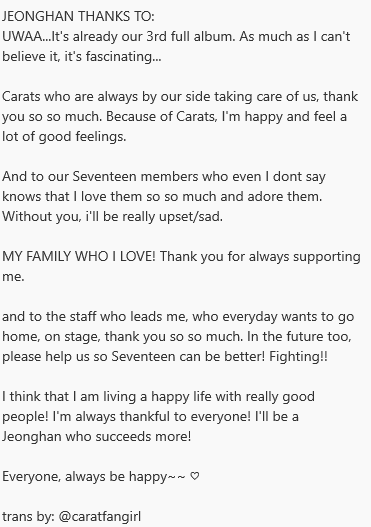 Joshua's Thanks To



Jun's Thanks To (credit kr ch)


Our 3rd full album is finally out! this time we are showing our really cool sides to our carats. we prepared really hard while thinking of everyone who is looking forward to it, so it'd be nice if carats like it. carats who always give us strength, lets be together for a long time~ in the future we/i hope to be able to show everyone more cool and various sides of us. you know that i always love you right? let's meet soon!

Just like before, I always wanted to show a different side of me to carats every comeback. So hope that this time too you'll like it~ time really passes by so quickly, I'll again rely on carats for our future endeavors too~ we will work even harder!


Wonwoo's Thanks To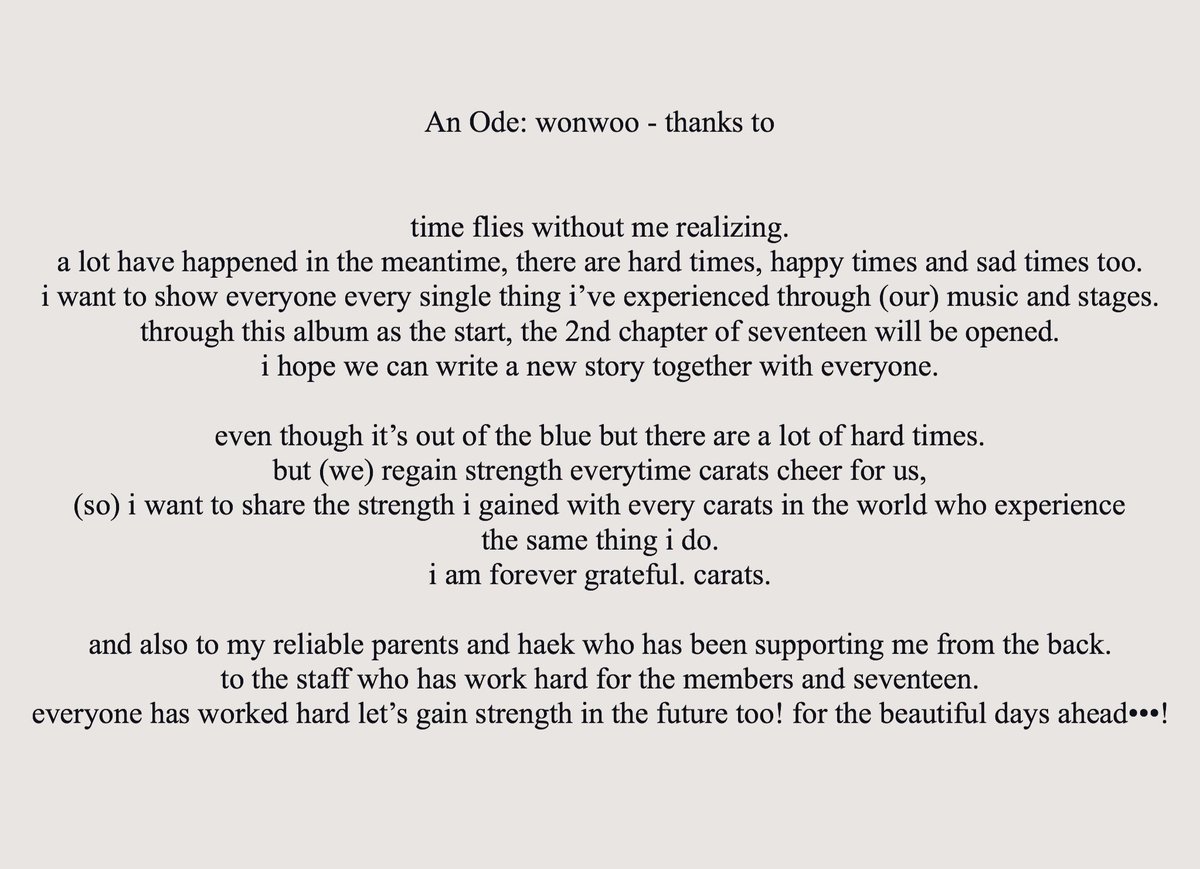 Hoshi's Thanks To (credit)


an unexpected wind
who made me a warm spring breeze
our precious carat

always stop there
watching us for a long time
the look in your eyes I can't forget

because of you all
as much as my heart runs
I will continue without rest

I love you 🖤

horanghae



Woozi's Thanks To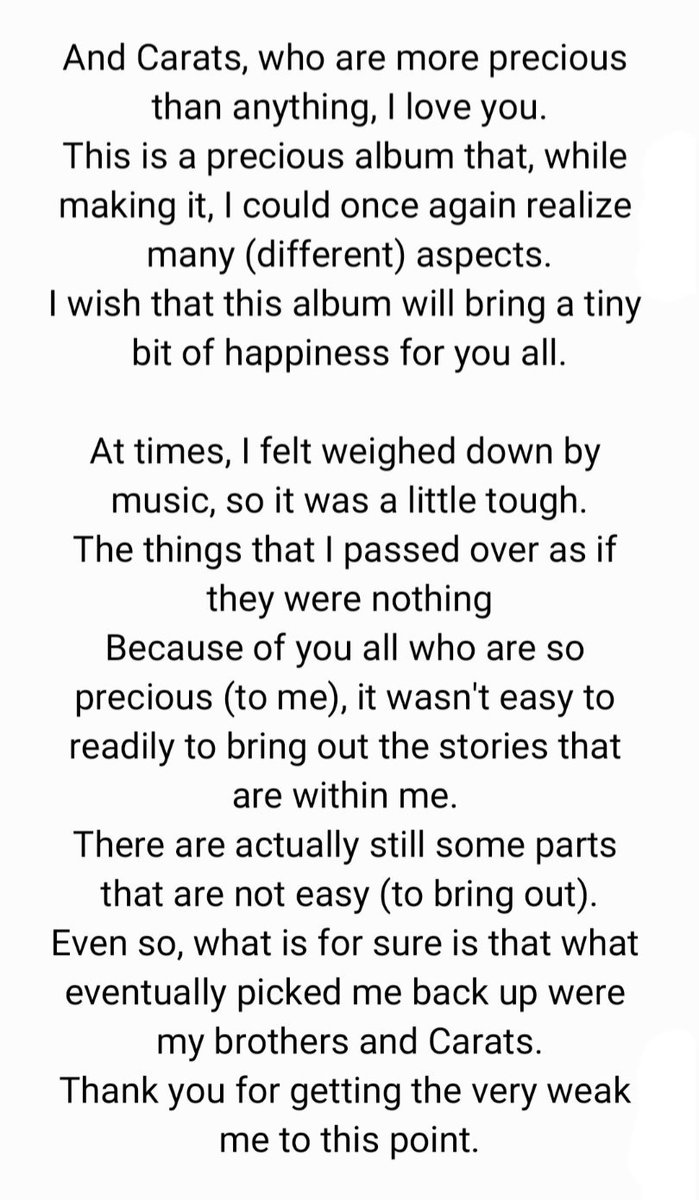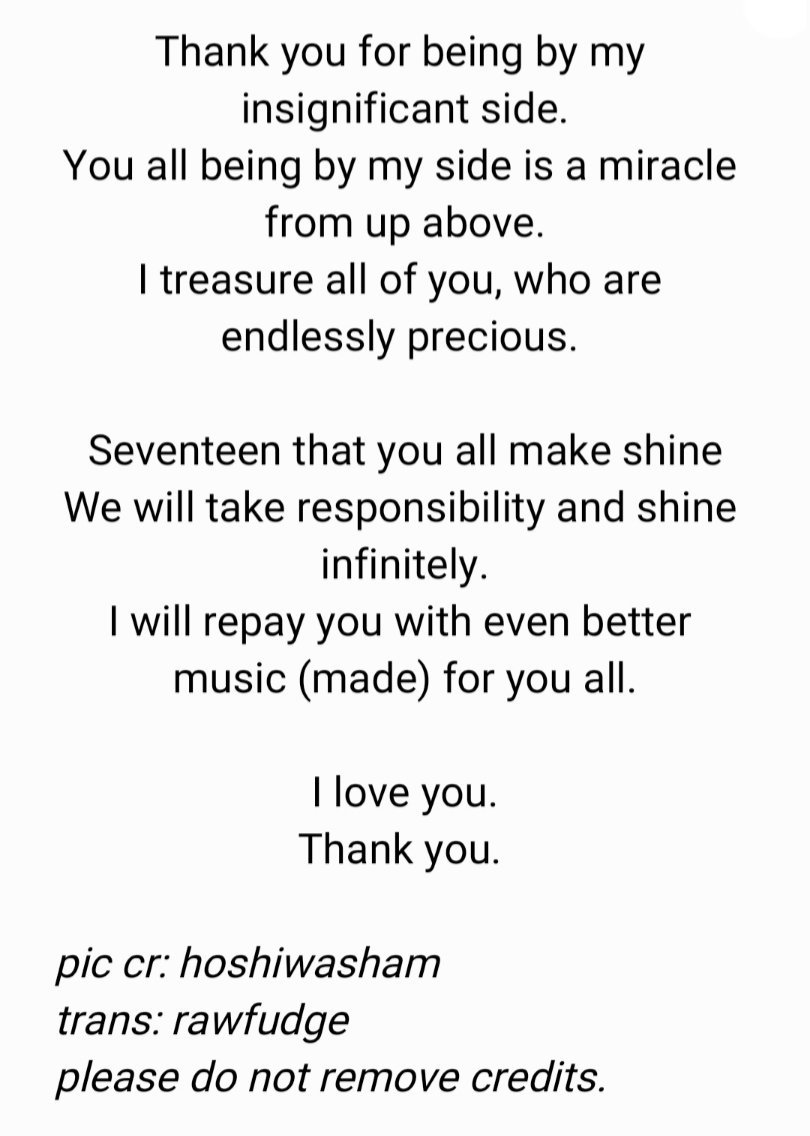 Minghao's Thanks To (credit)


I often ask myself, what if I never met you guys, what kind of ending will my story have? Thank you for coming by my side, giving me all your gentleness and bringing me love, in the future, I hope that all the blessings would surround all of you.
Thank you everyone. ♡



Mingyu's Thanks To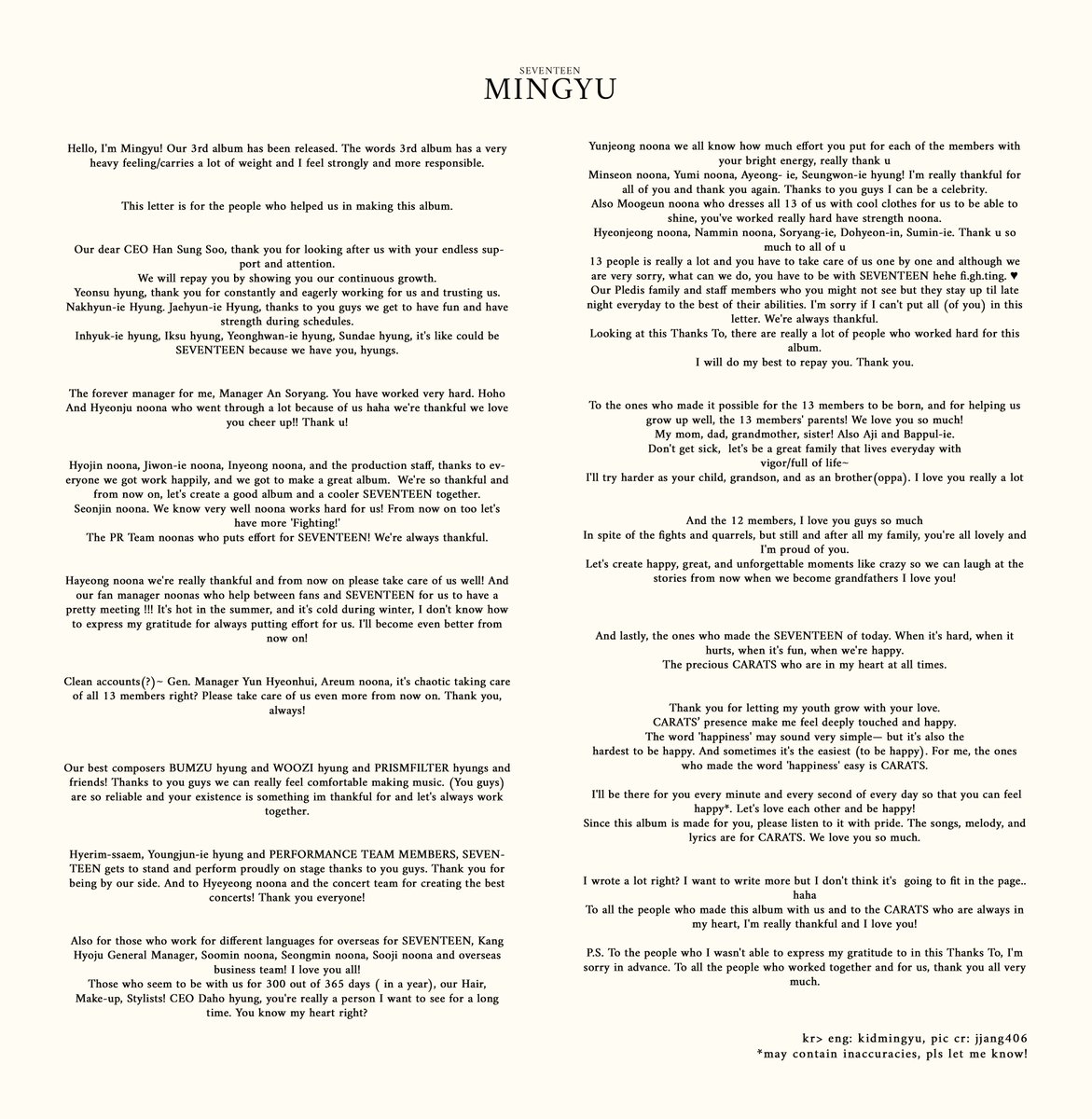 (click for bigger pic)

Seokmin's Thanks To (credit)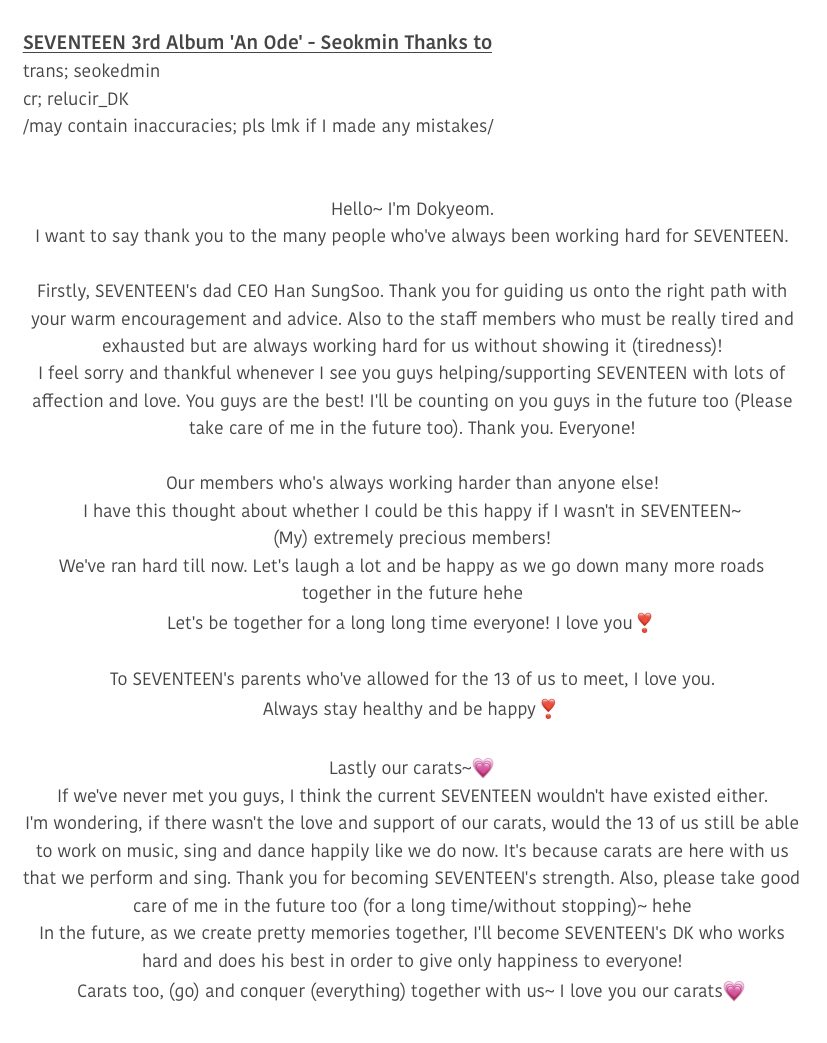 Seungkwan's Thanks To




Vernon's Thanks To (credit)



Dino's Thanks To

Some articles/reviews:
MTV
reviews HIT.
Billboard
also wrote a piece. Seoulbeats reviews
'An Ode'
.
Allure
wrote about Joshua's red eyeliner.
What else happened last week?
---
Seventeen (HHU) were attending the
2019 Dubai Hallyu exhibition
and appointed as ambassadors. Seventeen will perform in Dubai on Oct 17th.
Pikicast
wants Seventeen to appear on ASMR 'After Mom Goes to Sleep'.
Wizones
were
streaming
again to repay the repay of the repay of the---- Minghao and former Seventeen-trainee
Mingming
hung out!
AAA Vietnam voting
is going on, you can give 6 votes per day with twitter/facebook.
CARAT BONG Ver.2
is now available to buy online! They already announced their
GV
or Sept 29th, which will also mark the end of their promotions. (Only two weeks promotion T.T)

Videos: Seventeen, carrot gyuu, Seventeen VLive, Dingo Music, ddingo, Mnet K-POP, M2, KBS World, Studio K, MBCkpop, SBS KPOP PLAY

Images: ageekofart, SVT_CHART 2, OrangeBoo0116, wwdn_1711 1 2, oyasumingyu, _starland_ HeavenlyV_DK, My13boys_0526, mycrescent_THE8, MALANGCOW__, SeaSalt_95, unwinged_angel, vivi960610, breathless_sc, bleuciel0218

Translations: bichuisigan, sweetlikehoshi, simplyjunhui, 17_HAMZZI (thread), wakanda4everess, 1woo17, soonberries, gyusnoona, chanshua_xd, caratfangirl, gentlemanshushu, haetbits, seokedmin, acevernon, kidmingyu, rawfudge, rozerenity, seungkwaned, onlyjunhui, archermoons, fairydinos



(x)